Ik kreeg weer een superleuke uitdaging van Albert Heijn. Namelijk de 5xnotenchallenge. Veel mensen denken dat vet niet bij een gezonde levenstijl past, maar je lichaam heeft vet wel nodig. Uiteraard is een frietje met op z'n tijd ook erg lekker, maar je lichaam doet het beter op goede vetten. Deze kun je vinden in o.a. vis, avocado's en…noten! Een broodje pindakaas is dus best goed op z'n tijd. En nu zijn er heel veel lekkere pindakazen in de winkel te vinden, maar nog leuker om zelf een variatie te bedenken en het is ook nog eens heel erg makkelijk. Ik ging aan de slag met pecan noten, maple syrup en kaneel. Vindt hieronder het recept of maak een eigen variant.
Ingrediënten:
1 zak pecannoten
3 eetlepels maple syrup
2 theelepels kaneel
1 eetlepel (noten)olie
Bereiding:
Doe de pecannoten in de hakmolen van je keukenmachine en laat deze draaien. Eerst zullen de noten verkruimeld worden maar na ongeveer 10 minuten (ligt even aan je keukenmachine) komen de oliën vrij en wordt het een smeuïge massa.  Voeg op dat moment de maple syrup en kaneel toe en draai nog even goed door. De structuur is wat minder glad dan bij bijvoorbeeld pinda's omdat de pecannoot iets droger is van zichzelf maar wil je het iets smeuïgere maken mix er dan nog een lepel (noten)olie doorheen (ik gebruikte amandelolie).  Heerlijk voor op een rijstwafel als snack, op brood of door de havermout.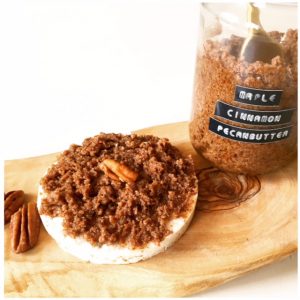 English version:
I received another fun challenge of Albert Heijn. It's called the 5xnotenchallenge (nuts challenge). A lot of people think fat doesn't fit in a healthy lifestyle, but your body does need fat. Some french fries are nice every once in a while, but your body response better to good fats. These can be found in a.o. fish, avocado and….nuts! A peanutbutter sandwich is perfect for breakfast. And eventhough there are tons of delicious peanutbutters available in the store, it's way more fun to make your own variation plus it's super easy. I decided to make one with pecan nuts, maple syrup and cinnamon. You will find the recipe below or make your own variation.
Ingredients:
1 bag pecan nuts.
3 spoons maple syrup
2 tea spoons cinnamon
1 spoon (nut)oil
Directions:
Put the pecan nuts in the chopper of your kitchenmachine and turn it on. First the nuts will turn into crumb but after approximately 10 minutes (depending on your machine) the oils will separate and turn it into a creamy mass. At that moment add the maple syrup and cinnamon and mix very well. The structure is less smooth than with for example peanuts because the pecan is a dryer nut by itself, so if you want to make it a little creamier add a spoon of (nut)oil. (i used almond oil). Nice on a rice cake as snack, on a sandwich or in your oats.