Ingrediënten:
4 eieren (alleen eiwitten)
200 gram (fijne) kristalsuiker
1 el maizena
6 gram Matcha poeder (en extra ter decoratie)
Slagroom
Geraspte kokos
(of een blik kokosmelk)
Decoratie (naar keuze, ik gebruikte de marsepeinen kerstboompjes met chocolade van de Albert Heijn)
Bereiding:
Verwarm de oven voor op 90 graden.
Ontvet een kom (tip: gebruik een aluminium kom, deze zijn makkelijker te ontvetten) door een citroen doormidden te snijden en deze door de kom te halen. Zo weet je zeker dat je eiwit goed gaat opstijven.
Doe de eiwitten in de kom en klop samen met de 200 gram suiker tot het glanst en stevig is, voeg de suiker tijdens het kloppen geleidelijk toe. Zeef de maizena boven de kom en voeg de Matcha poeder toe en klop alles goed door elkaar tot je mooie glanzende pieken krijgt.
Schep de eiwit in een spuitzak en maak met rondjes een mooie krans op het midden van het bakpapier. (tip: teken met een potlood de omvang van de schaal waarop je hem straks gaat presenteren, zo wordt hij groot genoeg en mooi rond). Bak de pavlova in de oven in 4 uur gaar. Zet de oven uit en laat nog ongeveer 2 uur in de oven staan met de ovendeur op een kiertje om af te koelen.
Haal uit de oven en laat verder afkoelen. Klop de slagroom stijf met eventueel wat suiker of agavesiroop en kokos. Wil je echte kokosroom gebruiken, zet dan een blik met kokosmelk de dag ervoor in de koelkast (pas op, niet schudden) en schep het room boven uit het blik. Klop dit nog een beetje op met wat agavesiroop en versier de krans ermee. Decoreer de krans naar keuze.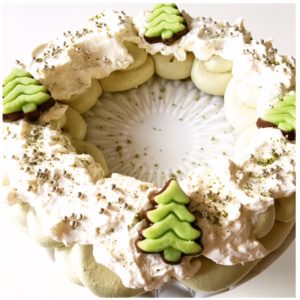 English version:
Ingredients:
4 eggs
200 gram (fine) granulated sugar
1 spoon cornstarch
6 gram Matcha powder (and extra for decoration)
Whipped cream
Grated coconut
(or a can coconut milk)
Decoration (to choice, i used marzipan christmastrees with chocolate of the Albert Heijn)
Directions:
Preheat the oven to 90 degrees.
Degrease a bowl (tip: use an aluminum bowl, these are easier to degrease) by cutting a lemon in half and rub the bowl with the juice. This way you are sure the eggwhite will set perfectly.
Put the eggwhites in a bowl and whip together with the sugar till it's shiny and firm. Sieve the cornstarch above the bowl and add the matcha powder and whip everything till nice shiny peaks.
Scoop the eggwhite in a piping bag and make rounds in a nice wreath in the middle of the grease free paper. (tip: draw with a pencil the size of the plate you are going to serve it on, so it will be the right size & nice round). Bake the pavlova in the oven for 4 hours till done. Turn off the oven and leave in the oven for another 2 hours with the ovendoor slightly open.
Take out of the oven and let it cool down. Whip the cream with some sugar or agave syrup and grated coconut. If you want to use real coconut cream, put a can of coconutmilk in the fridge a day earlier (don't shake!!!) and scoop the cream from the top of the can. Whip with a little agave syrup and divide over the wreath. Decorate the wreath to choice.