Ingrediënten voor 1 persoon:
1/2 zakje Queen Protein Chips Cheesy Cheese (van GymQueen)
100 gram (vega) gehakt
1/2 puntpaprika
1/2 rode ui
1/4 of meer courgette
8 cherrytomaatjes
2 theelepels Mexicaanse kruidenmix (kant en klaar of makkelijk zelf te maken door 1 tl uienpoeder, 1 tl knoflookpoeder, 1 tl zout, 2 tl komijnpoeder, 1 tl chilipeper poeder en 3 el paprikapoeder te mixen)
Een paar jalapeno plakjes (naar smaak)
Geraspte kaas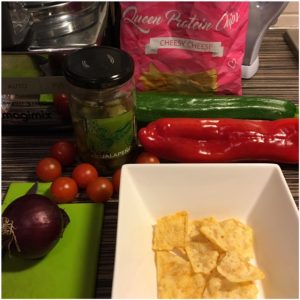 Bereiding:
Verwarm de oven voor op 200 graden. Neem een ovenschoteltje (voor 1 persoon) en bedek de bodem met wat proteïnechips van GymQueen. Snij de groente in kleine stukjes/blokjes. Bak in de pan in een klein beetje olijfolie de rode ui even aan en voeg de rest van de groente toe. Bak eventjes aan tot de groente zachter worden. Voeg dan het vega gehakt toe met de mexicaanse kruiden. Indien je gewoon gehakt gebruikt dan zou ik beginnen deze eerst rul te bakken met de kruidenmix en daarna de groente toe te voegen.
Als alles goed is gebakken doe dan de helft van het groente/(vega)gehakt mengsel in het ovenschoteltje en bedek de proteïne chips. Strooi er vervolgens nog wat geraspte kaas over.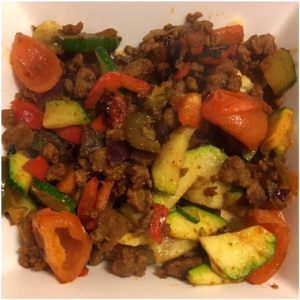 Bedek vervolgens met nog een laagje proteïne chips, de andere helft van het groente/(vega) gehakt mengsel en nog wat geraspte kaas en zet dan ongeveer 10 minuutjes in de voorverwarmde oven tot de kaas is gesmolten. Enjoy!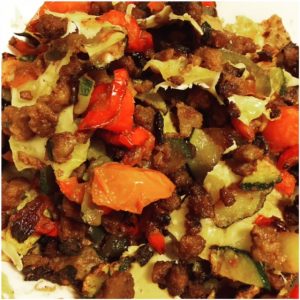 Met code QueenEllen10 krijg je 10% korting op je bestelling bij www.gymqueen.nl waar je de proteïne chips kan krijgen!
English version:
Ingredients for 1 person:
1/2 bag Queen Protein Chips Cheesy Cheese (of GymQueen)
100 gram (vegetarian) minced meat
1/2 sweet pepper
1/2 red onion
1/4 or more zuchinni
8 cherry tomatos
2 tea spoons Mexican spice mix (from a store or just as easy homemade by mixing 1 ts grounded onion spice, 1 ts dried grounded garlic, 1 ts salt, 2 ts cumin spice, 1 ts chili spice and 3 spoons bell pepper spice)
a few slices jalapeno (optional)
Grated cheese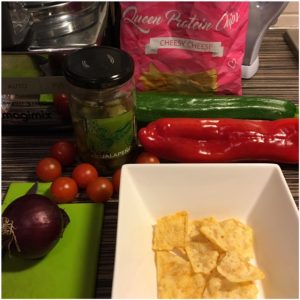 Directions:
Preheat the oven to 200 degrees. Cover the bottom of an ovendish (for one person) with some proteinchips of GymQueen. Cut the veggies in small pieces/dices. Add some olive oil in a frying pan and add some red onion. Cook untill tender and add the rest of the veggies. Cook the rest till tender. Add the vegetarian minced meat and add the mexican spice mix. If you use normal minced meat, start with cooking that first with the spice mix and than add the veggies.
When everything is cooked through add half of the veggie/(vegetarian) minced meat mix in the ovendish and cover with some more protein chips. Add some grated cheese.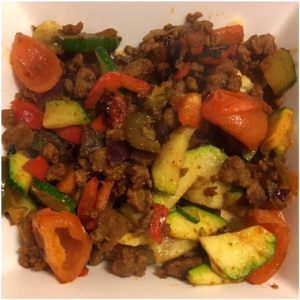 Cover with the other half of the veggie/(vegetarian) minced meat mixture and add some more grated cheese and put approximately 10 minutes in the oven till the cheese is melted. Enjoy!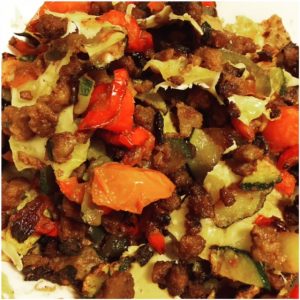 Use the code: QueenEllen10 for 10% discount on your oder at www.gymqueen.nl where you can order the protein chips!