Wow, dat is denk ik wel toepasselijk als ik de opening van Tough Grounds beschrijf of nouja misschien wel een understatement, want wat ik voelde toen ik naar binnen liep is eigenlijk niet te beschrijven. Wat een ongelofelijk gave Indoor Obstacle Course & Crossfit box.
Maar wat het nog gaver maakt, is dat deze Indoor Obstacle Course & Crossfit box in Almere een droom was van twee vrienden. Twee vrienden die in de weekenden obstacle courses lopen en 1 ervan doet dat met een been minder. Ja, je leest het goed! Obstacle races zijn al zwaar op zich, maar als je dan ook nog een ledemaat mist wat op zich best essentieel lijkt voor zo'n race dan kan ik alleen maar heel veel respect voor je hebben. En dat respect groeide naarmate ik MichaelRobbert beter leerde kennen en hij mij zelf zo ver kreeg een Mudrace van Strong Viking te lopen (zie blog). Samen met Dutch Adaptives hielpen zij mij het einde te halen. Ondertussen was Michael Robbert ook nog eens aan het trainen voor het beklimmen van de Ben Nevis (die hij uiteindelijk dus ook beklom), sloopte hij ook nog het World Guiness Record van snelste man op krukken en 1 been op de 5 km en deed ie ook nog eens mee met Ninja Warrior Nederland. Al geïnspireerd geraakt? Volg MichaelRobbert op Instagram onder de naam Myoneleggedlife of bekijk z'n site, www.michaelrobbertbrans.com.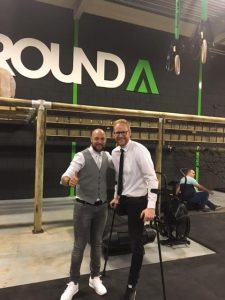 Maar terug naar die droom die ongeveer 2,5 jaar geleden begon…en eigen Indoor Obstacle Course & Crossfit box om mensen te kunnen trainen om obstacle courses te lopen maar ook gewoon hun eigen grenzen te verleggen. Niet zomaar iets wat je makkelijk van de grond krijgt, maar net als in hun sport zijn de twee vrienden echt volhouders en schreven zij een ondernemersplan. Vervolgens stuurde zij deze naar de Bart de Graaff Foundation. En in de maanden die erna volgde deden de heren er alles aan om Tough Ground van de grond te krijgen, van crowdfunding tot het zoeken van financierders. En uiteindelijk bij een bank die er vertrouwen in had. Er werd een geschikte locatie gevonden en hard gewerkt en na 2,5 jaar was dan gisteren de officiële opening.
Na een prachtige speech van de heren zelf waarin ze duidelijk maakte dat ze zonder de hulp van hun netwerk dit nooit van de grond hadden gekregen, een ontroerende en grappige speech van de moeder van MichaelRobbert en uiteindelijk de officiële opening van Mirjam de Graaff (Bart Foundation en zus van de oprichter van BNN) werd de baan gelijk getest door een van Nederlands beste Obstacle runner. En goedgekeurd!!!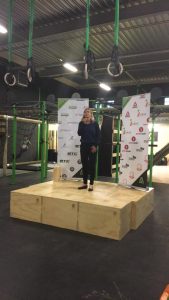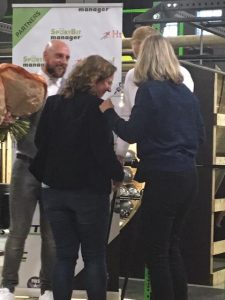 Wat kun je bij Tough Grounds?
Naast een sportlocatie voor crossfit en obstakeltraining kun je er ook terecht voor teambuilding, bedrijfstrainingen (er is een vergaderruimte), voedingsadvies en personal training. Maar het beste is dat je ook met een beperking terecht kan bij Tough Grounds. In het weekend kun je op inloop trainen (even vooraf inchecken via de site) en voor lessen kun je terecht voor een intake/kennismaking waarna men bepaald welke training het beste voor je is.
Nieuwsgierig geworden en in de buurt van Almere? Ga dan morgen naar de open dag van Tough Grounds aan de Televisieweg 12 van 10.00 tot 17.00 uur en zie zelf hoe gaaf deze nieuwste sportlocatie van Nederland is. Volg ze anders op social media of via de website www.toughground.nl.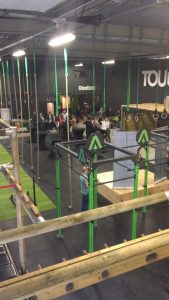 English version
Wow, that's the only way to describe the opening of Tough Grounds or well, maybe an understatement, as can't really describe the way i felt when i first walked in. Such an amazing Indoor Obstacle Course & Crossfit box.
But what makes it even better, is this Indoor Obstacle Course & Crossfit box in Almere was a dream of two friends. Two friends that do obstacle courses in the weekends and of which one does that with only one legg. Yep, you are not reading this wrong! Obstacle races are tough by itself, but missing a bodypart that is pretty essential for such races means i can only have lots of respect for you. And that respect grew when i got to know MichaelRobbert even better and he even convinced me to do the Mudrace of Strong Viking (see blog). Together with Dutch Adaptives they helped me finish. In the meanwhile MichaelRobbert trained and climbed the Ben Nevis, broke the World Guiness Record of fastest man on crutches and 1 legg on the 5 km and took part at Ninja Warrior Nederland. Got inspired? Follow MichaelRobbert on Instagram under the name Myoneleggedlife or go to his site, www.michaelrobbertbrans.com.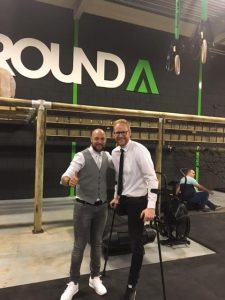 But back to that dream that started about 2,5 years ago…an own Indoor Obstacle Course & Crossfit box to train people to race obstacle courses but also to push their own boundaries. Not something easy to do, but just like in their sport these two friends are never giving up and they wrote a business plan. Which they sent to Bart de Graaff Foundation. And in the months following the guys did everything to get Tough Grounds, well..of the ground, from crowdfunding to finding financial partners. And eventually a bank that trusted their operation. They found the perfect location and they worked hard and after 2,5 years the had their official opening yesterday.
After a beautiful speech of the tough guys themselves in which they explained they could have never done this without the help of loved ones and people that believed in them, a touching and funny speech of the mum of MichaelRobbert and eventually the official opening by Mirjam de Graaff (Bart Foundation and sister of the founder of BNN) the course was tested straight away by Dutch best Obstacle runner. And approved!!!!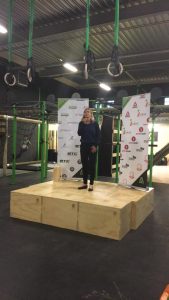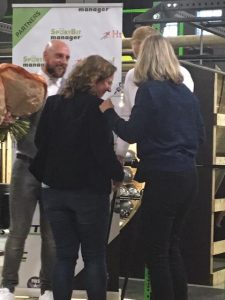 What can you do at Tough Grounds?
Besides being a sportlocation for crossfit and obstacle training, you can also use the location for teambuilding, company training (they have a meeting room), nutrition advice and personal training. But what's unique about Tough Grounds, even with a limitation/handicap you can still train there. In the weekends you can come in for a unscheduled training (just check in through the website) and for lessons you get a intake which decides what training is best for you.
Curious and in the area of Almere? Go to their open day tomorrow of Tough Grounds (Televisieweg 12) from 10.00 am to 17.00 pm and see for yourself how cool this new sportlocation of The Netherlands is. Or follow them on social media or on their website www.toughground.nl.