Ingredienten 1 panini:
1 panini (uiteraard ook lekker op een ander broodje)
paar plakjes fricandeau
1/2 blikje tonijn
1 eetlepel kwark
1 theelepel mayonaise
Klein beetje citroensap
1 ansjovis(je)
1 theelepel kappertjes en een paar extra ter garnering
Sla ter garnering
Bereiding:
Rooster de panini. Beleg met de sla en fricandeau. Mix in een keukenmachine (of hakmolen van een staafmixer) de tonijn, kwark, mayonaise, citroensap, ansjovis en kappertjes tot een saus. Verdeel de saus over de fricandeau en garneer eventueel nog met een paar kappertjes.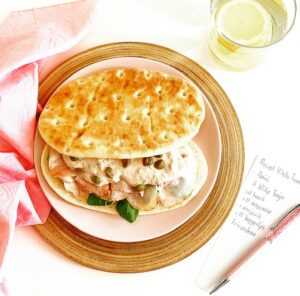 English version:
Ingredients 1 panini:
1 panini (also good on other buns ofcourse)
few slices fricandeau
1/2 can tuna
1 spoon quark (or greek yoghurt)
1 teaspoon mayonaise
Little squeeze of lemon juice
1 ansjovis
1 teaspoon capers and a few extra for garnish
Lettuce for garnish
Directions:
Roast the panini. Top with the lettuce and fricandeau. Mix in a kitchen machine (or chopper of a handheld mixer) the tuna, quark, mayonaise, lemon juice, ansjovis and cappers into a sauce. Spread the sauce over the fricandeau and garnish with some cappers (optional).