Ingrediënten voor 3 rolls:
Brioche broodjes (of hotdog broodjes)
100 gram rivierkreeftjes
1 theelepel mayonaise
1 eetlepel kwark
Citroensap, een klein beetje
1/2 theelepel cayennepoeder
3 takjes bieslook, fijngesneden
1,5 eetlepel roomboter, gesmolten
Bereiding:
Meng de mayonaise, kwark, citroensap, cayennepoeder en bieslook door elkaar. Voeg de rivierkreeftjes toe en meng goed door elkaar. Smeer de broodjes in met de gesmolten boter en rooster ze kort in de oven of op een grillplaat. Vul de broodjes met het rivierkreeftjes mengsel. Nog wat boter over, druppel dit dan over de broodjes. Serveer, op zijn Amerikaans en lekker budgetproof, met wat chipjes on the side! Lekker als lunch of lichte maaltijd!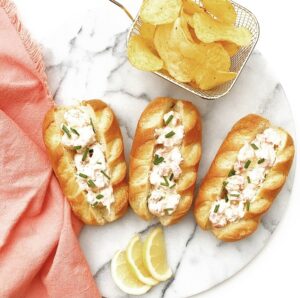 English version:
Ingredients for 3 rolls:
Brioche buns (or hotdog buns)
100 gram craw fish
1 teaspoon mayonaise
1 spoon quark (or greek yoghurt)
Lemon juice, a little squeeze
1/2 teaspoon cayennepepper
3 springs of chives, cut into small pieces
1,5 spoon real butter, melted
Directions:
Mix the mayonaise, quark, lemon juice, cayennepepper and chives. Add the craw fish and mix well. spread the melted butter over the buns and roast them not too long in the oven or on the grill. Fill the buns with the "lobster" mixture. If you have some melted butter left, sprinkle over the buns. Serve, like Americans and very budgetproof, with some chips on the side! Great as lunch or a light dinner!