Wat doe je als je een klein budget hebt en je opeens bezoek krijgt? Dan kijk je wat je kan maken met wat je nog in huis hebt. En geloof me, met eieren, suiker en zelfrijzend bakmeel kom je best ver. Deze rabarber cake is zo gemaakt!
Ingredienten:
+/- 200 gram rabarber
1 el suiker
Klein beetje citroensap
150 gram zelfrijzend bakmeel
2 eieren
100 gram ghee (bij gebrek aan roomboter, dus ja daar kan je het mee vervangen!)
50 gram suiker (de cake is niet heel zoet, hou je van zoetere cake maak er dan 75 of 100 gram suiker van)
1 el kwark
Citroensap, optioneel
Amandelstukjes, optioneel
1 el suiker
Bereiding:
Verwarm de oven voor op 180 graden.
Snij de rabarber in stukjes van ongeveer 1 cm. Kook in een klein laagje water samen met 1 el suiker en een klein beetje citroensap. Kook echter niet te gaar. Hij moet nog een beetje een bite hebben.
Klop de Ghee/Boter in een kom los met de suiker en voeg de eieren toe. Klop tot een luchtig geheel. Voeg het zelfrijzend bakmeel toe, de kwark en eventueel een kneepje citroensap. Klop tot een iets wat stevig beslag. Voeg de rabarber toe en mix goed. Bekleed een cakeblik met bakpapier. Schep het beslag in het cakeblik en verdeel goed. Strijk glad met de achterkant van een lepel. Bestrooi met de amandelstukje en een lepel suiker. Bak de cake in het midden van de oven in ongeveer 45 minuten gaar. De cake is gaar als je een prikker erin steekt en deze er schoon uit komt. Laat volledig afkoelen!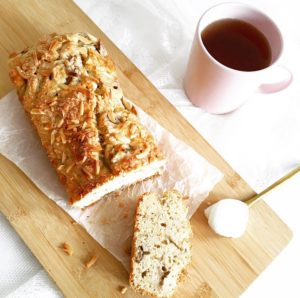 English version:
What to do when you are on a tight buget and people are coming over? Well just go through your pantry and see what you can make. And believe me, with eggs, sugar and selfrising bakingflour you can get pretty far. This Rhubarb cake is done in less than an hour!
Ingredients:
+/- 200 gram rhubarb
1 spoon sugar
Little squeeze lemon juice
150 gram self rising flour
2 eggs
100 gram ghee (as i didn't have butter, so yes you can replace it with butter!)
50 gram sugar (the cake is not overly sweet, if you prefer sweeter cakes make it 75 or 100 gram sugar)
1 spoon quark/greek yoghurt
Lemon juice, optional
Almond pieces, optional
1 spoon of sugar
Directions:
Preheat the oven to 180 degrees celcius.
Cut the rhubarb in pieces of aprrox. 1 cm. Cook in a little bit of water together with 1 spoon of sugar and a squeeze of lemonjuice. Don't cook it too long. It still needs a litte bite.
Beat the ghee/butter in a bowl with the sugar and add the eggs. Beat till fluffy. Add the selfrising flour, the quark/greek yoghurt and optional a squeeze of lemonjuice. Beat untill it's a bit firmer batter. Add the rhubarb and mix well. Put some nongrease paper in a cake tin. Pour the batter in the cake tin and spread it out/divide it well. Make it smooth with the back of a sppon. Garnish with the almond pieces and sprinkle some sugar over it. Bake the cake in the middle of the oven for about 45 minutes. The cake is done if you put a skewer in it and it comes out clean. Let it cool down completely!