Eerlijk, het gaat hier niet zo zeer om wat je in de salade doet, maar echt om de dressing! Dus heb je bepaalde ingrediënten niet voor de salade, wees creatief met wat je in de groente la hebt liggen.
Ingrediënten dressing (genoeg voor meerdere salades, maar ook lekker als "saus" bij vlees of vis):
3 eetlepels (magere Franse) kwark
2 eetlepels olijfolie
2 theelepels mayonaise
1 teentje knoflook
1 klein sjalotje
10 (ongeveer) blaadjes munt
10 (ongeveer) blaadjes koriander
2 eetlepels citroensap
1 theelepel honing
snufje zout
Mix alles met de staafmixer/blender/keukenmachine tot een gladde saus.
Voor de salade gebruikte ik rucola, komkommer, groene aspergetips, avocado, radijs en een zacht gekookt eitje.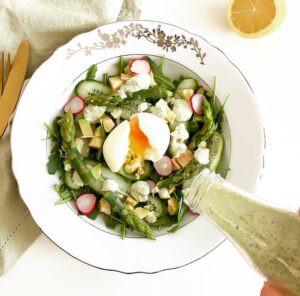 English version:
Honestly, it's not really about what's in the salad, but this recipe is all about the dressing! So if you don't have certain ingredients for the salad, just be creative with what you have in your veggie drawer!
Ingredients dressing (enough for multiple salads, but also good as "sauce" with meat or fish):
3 spoons quark (or greek yoghurt)
2 spoons olive oil
2 teaspoons mayonnaise
1 clove of garlic
1 small shallot
10 (approximately) leafes of mint
10 (approximately) leafes coriander
2 spoons lemon juice
1 teaspoon honey
sprinkle salt
Mix everything with a handheld mixer/blender/kitchenmachine into a small sauce.
For the salad i used rocket salad, cucumber, green asperge tips, avocado, radish and a soft boiled egg.