Ingrediënten voor 2 personen:
500 gram magere runderlappen
1 eetlepel bloem
1 theelepel 5 spice kruiden
1 ui, in ringen gesneden
1 teentje knoflook, fijngesneden
1/2 flesje bier
1 eetlepel azijn
1 eetlepel Ketjap Manis
1 laurierblaadje
1 plakje ontbijtkoek, in stukjes
1 eetlepel mosterd
1 theelepel tijm
2 of 3 worteltjes, in stukjes gesneden
Benodigdheden: een slowercooker (het zou ook in een braadpan met dikke bodem kunnen maar hou dan wel heel goed het pannetje in de gaten dat het niet droogkookt (je zou dan extra bier of water kunnen toevoegen).
Bereiding:
Zet de slowcooker aan op low. Bestrooi de runderlappen met de 5 spice kruiden en bloem. Bak kort aan in de pan aan alle kanten en plaats de runderlappen in de slowcooker. Bak in de pan de ui en knoflook en voeg toe aan de runderlappen. Voeg vervolgens de rest van de ingrediënten toe. Doe de deksel op de slowcooker. En laat de slowcooker 4 uur zijn werk doen. Zet het laatste uurtje de slowcooker op high zodat het vlees uit elkaar valt.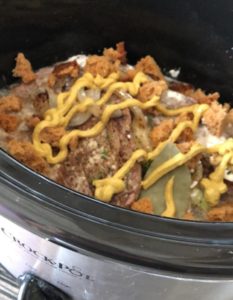 Lekker met geroosterde pompoen of als frietje stoofvlees. Ook makkelijk om in te vriezen (de smaken trekken hierdoor nog meer in).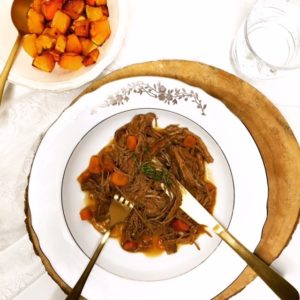 English version:
Ingredients for 2 persons:
500 gram lean beef
1 spoon flour
1 teaspoon 5 spice spices
1 onion, sliced
1 clove garlic, finely sliced
1/2 bottle of beer
1 spoon vinegar
1 spoon Ketjap Manis
1 bay leaf
1 slice breakfast cake (similar to gingercake), in pieces
1 spoon mustard
1 teaspoon thyme
2 or 3 carrots, cut in pieces
Kitchentool: a slowercooker/crockpot (it could also be made in a pan with a thick bottom, but keep an close eye on it that the fluids don't dry cook (if so, add more beer or water).
Direction:
Turn the slowcooker on, on low. Sprinkle the beef with the 5 spice spices and flour. Bake short in a pan making sure all the sides are seared and place the beef in the slowcooker. In the same pan bake the onion and garlic and add to the beef. Add the rest of the ingredients. Put the lid on the slowcooker. And let it do it's work for 4 hours. Put the slowcooker on high in the last hour, this will make the meat fall apart.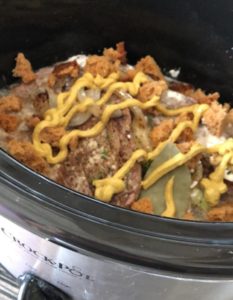 Serving tip: with roasted pumpkin or over fries. You can also freeze the leftovers, this way the flavour will be soaked up even more by the meat.