Jaaa…het laatste weekje…nouja, beetje vroeg gejuicht want ook september wordt krapjes. Maar nu ook Lidl naast Jumbo een soort van Too Good to Go bak/koelvak heeft met kleine prijsjes, wordt het waarschijnlijk echt wel heel makkelijk om ook in september zo min mogelijk geld uit te geven. Op mijn birthday weekend na dan, als corona geen roet in het eten gaat gooien…fingers crossed. Maar jullie zijn vast heel benieuwd wat ik heb gegeten in dit laatste weekje, en, of ik het gered heb met maar €20,- voor de hele maand.
Zaterdag 22 augustus:
Ontbijt: 2 maiswafels met chocopasta van Mister Kitchen's (de voordelen van foodblogger zijn)
Lunch/snack: een zelfgemaakte appelflap
Diner: 5 veggie loempia's met chilisaus en een kom Chinese tomatensoep
Drinken: 1 bitterlemon van de onderbuurman, 1 latte macchiato caramel en 1 liter water
Zondag 23 augustus:
Ontbijt: Blueberry Pancakes
Snack: 1 caramel reepje van CaramelZ en 2/3 zak BioToday chips
Diner: rijst met kip, aubergine en paprika in Hoisin saus
Drinken: 2 x thee, Lipton Infused 1 liter en 1 x Latte macchiato caramel
Maandag 24 augustus:
Ontbijt: niks (de tijd van het ophalen van de fruit & veggie box werd vervroegd dus moest haasten)
Lunch: 1 bruine boterham met paddenstoelen en 1 bruine boterham met pindakaas
Snack: laatste paar chipjes en kersen
Diner: kaasschnitzel, zoete aardappel en sla

Ik kan mij voorstellen dat deze drie dagen overkomen al heel weinig eten maar door een paar heftige dagen in mijn straat had ik ook niet echt veel trek!
Dinsdag 25 augustus:
Ontbijt: magere yoghurt (die dit keer ook bij de fruit & veggie box zat) met muesli met aardbeien, frambozen en witte chocolade vlokken
Lunch: een groot kom Chinese tomatensoep met BioToday chips
Snack: kersen
Diner: 2 groente wraps (met o.a. zoete aardappel, courgette en paprika) met zelfgemaakte knoflooksaus
Drinken: 1 liter Lipton Infused

Woensdag 26 augustus:
Ontbijt: Pink smoothie (banaan, frambozen, perzik en aardbeien) met gekookt eitje
Lunch: 2 bruine boterhammen met pindakaas
Diner: 3 bao buns met kimchi, komkommer en 2 speklappen
Drinken: 0,5 liter water met munt

Donderdag 27 augustus:
Ontbijt: Chai Choco Latte Nicecream
Lunch: 2 pannenkoeken (mix van Panash, gekregen van Manon Healthy foodie) met zelfgemaakte blauwe bessenjam
Snack: 1/2 zak BioToday chips en een maiswafel met chocopasta
Diner: broodje hamburger (dankzij de bovenbuuf) met mangochutney en komkommer
Drinken: 1,5 liter water met munt

Vrijdag 28 augustus:
Ontbijt: Yoghurt met appel, kaneel, muesli en rozijnen
Lunch: quiche gemaakt van 1 plakje bladerdeeg, 1 ei, courgette, paprika en zongedroogde tomaten
Snack: BioToday chili chips en een stukje pure chocolade
Diner: Pokebowl met rijst, garnalen, komkommer en zeewiersalade (met dank aan de onderbuuf)
Drinken: 2 liter water met munt en 2 x thee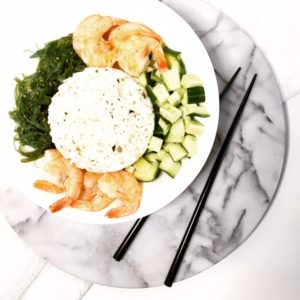 Zaterdag 29 augustus:
Ontbijt: Gebakken halve appel met zelfgemaakte amandelspijs, kaneel, caramel zeezout, geroosterde amandelen en yoghurt
Lunch: 2 bruine boterhammen met 2 gebakken eieren en 1 bruine boterham met pindakaas
Snack: 4 kleine stukjes chocolade
Diner: 1 wrap met pulled chicken, courgette, paprika, zoete aardappel
Drinken: 4 x thee, 1,5 liter water met munt

Zondag 30 augustus:
Ontbijt: pannenkoeken met warm rood fruit
Snack: chocolade
Diner: Sushiiiii van een bon die ik nog had van Sushipoint. Ik nam mixed sushi (18 stuks) en de hot special mix (3 yakitori kipspiesjes en 3 tempura garnaal)
Drinken: thee, een chocolade nicecreamshake, 1,5 liter water met munt
Maandag 31 augustus:
Ontbijt: perencrumble
Voor de lunch en avondeten eet ik wat er in het groente en fruit pakket zit.
Heb ik het gehaald?
Jaaaaa ik heb het gehaald en ik heb zelfs nog geld over. Ik kocht nog havermout voor €0,50 en een broodje voor de hamburger voor €0,29. En heb na het betalen van fruit en veggiebox van 31 augustus zelfs nog €0,65 over. En eerlijk, het was best te doen, in de laatste week was het een beetje puzzelen maar dankzij mijn boven en onderbuuf en creatief zijn is het uiteindelijk gelukt. Helaas moet ik voorlopig nog wat rustig aan doen en kan ik niet los gaan in de supermarkt, maar misschien is dat nog zo slecht nog niet. Inmiddels ben ik 2,5 kilo kwijtgeraakt en zit ik weer onder mijn "grensgewicht" van voor de coronakilo's ;)!
Geïnspireerd en wil je ook minder geld aan boodschappen uitgeven en toch lekker en gezond eten? In mijn boek Fab and Fit on a Budget leer ik je al mijn tips & tricks. En vandaag nog te bestellen zonder verzendkosten op mijn eigen site. Klik hier om te bestellen! En ja, hij komt met een gratis weekplanner.

English version:
Yeeeeaaahhh…the last week…well i might have cheered a little early as September is gonna be tight aswell. But now that Lidl besides Jumbo also have a kind of Too Good to Go display/freezer with small prices, it's probability gonna be a lot easier not to spend too much money in September. With the exception of my Birtday weekend, if corona doesn't screw that up aswell…fingers crossed it doesn't. But i know you are probability very curious what i ate in this last week, and, if i made it with only €20,- for the whole month.
Saturday 22 august:
Breakfast: 2 corn waffles with chocolate spread of Mister Kitchen's (the perks of being a foodblogger)
Lunch/snack: a homemade apple turnover
Diner: 5 veggie eggrolls with chili sauce and a bowl Chinese tomato soup
Drinks: 1 bitterlemon from my downstair neighbor, 1 latte macchiato caramel and 1 liter water
Sunday 23 august:
Breakfast: Blueberry Pancakes
Snack: 1 caramel bar of CaramelZ and 2/3 bag BioToday chips
Diner: rice with chicken, eggplant, red pepper in Hoisin saus
Drinks: 2 x tea, Lipton Infused 1 liter and 1 x Latte macchiato caramel
Monday 24 augusts:
Breakfast: nothing (the time of picking up the fruit & veggie box got changed and i had to hurry)
Lunch: 1 slice of wheat bread with mushrooms and 1 slice of wheat bread with peanut butter
Snack: last few chips (BioToday) and cherries
Diner: cheese schnitzel, sweet potato and lettuce

I understand that the last 3 days may come accross like i ate way too little, but it was an intense few days in my street with incidents which made me lose my apetite a bit!
Tuesday 25 august:
Breakfast: light yoghurt (which was an extra in the fruit & veggie box) with muesli with strawberries, raspberries and white chocolate flakes.
Lunch: a big bowl Chinese tomato soup with BioToday chips
Snack: cherries
Diner: 2 veggie wraps (with a.o. sweet potato, zuchinni and red pepper) with homemade garlic sauce
Drinks: 1 liter Lipton Infused

Wednesday 26 august:
Breakfast: Pink smoothie (banana, raspberry, peach and strawberries) and a boiled egg
Lunch: 2 slices of wheat bread with peanutbutter
Diner: 3 bao buns with kimchi, cucumber and porkbelly slices
Drinken: 0,5 liter water with mint

Thurday 27 august:
Breakfast: Chai Choco Latte Nicecream
Lunch: 2 pancakes (mix of Panash, gifted by Manon Healthy foodie) with homemade blueberry jam
Snack: 1/2 zak BioToday chips and a corn waffle with chocopasta
Diner: hamburger (thanks to my upstairs neigbor) with mangochutney and cucumber
Drinks: 1,5 liter water with mint

Friday 28 august:
Breakfast: Yoghurt with apple, cinnamon, musli en raisins
Lunch: quiche made with 1 sheet puff pastry, 1 egg, zuchinni, bellpepper, sundried tomatos
Snack: Biotoday Chili Chips and a little piece of dark chocolate
Diner: Pokebowl with rice, shrimp, cucumber and seaweed salad (thanks to my downstair neigbor)
Drinks: 2 liter water with fresh mint, 2 x tea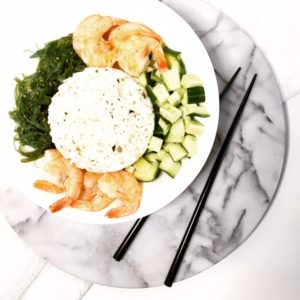 Zaterdag 29 augustus:
Ontbijt: baked apple with homemade almondpaste, seasalt caramel, roasted almonds & cinnamon
Lunch: 2 slices wheat bread with 2 baked eggs, 1 slice wheat bread with peanutbutter
Snack: 4 pieces chocolate
Diner: 1 wrap with pulled chicken with roasted zuchinni, sweet potato & bellpepper
Drinken: 4 x tea, 1,5 liter water with mint

Zondag 30 augustus:
Ontbijt: Pancakes with warm red fruit
Snack: chocolate
Diner: Sushiiii from a gift certificate i still had of Sushipoint. I ordered mixed sushi (18 pieces) and the hot special mix (3 yakitori chicken & 3 tempura shrimp)
Drinken: tea, a chocolate nicecreamshake & 1,5 liter water with mint.
Maandag 31 augustus:
Ontbijt: pear crumble
For lunch and diner i will eat what's in my fruit and veggie box.
Did i make it?
Yeeaaah i made it and even with some money leftover. I bought oats for €0,50 and a bun for the hamburger for €0,29. And after paying the fruit & veggiebox of 31 august i even have €0,65 left. And honestly, it wasn't that hard, just the last week was a bit of a puzzle but thanks to my neighbors and creativity i made it. Unfortunately, i have to take things easy a little longer and can't go crazy in the supermarket, but maybe that isn't that bad. I have lost 2,5 kg and i'm under my "not-go-over-weight" that i had before my coronakilo's ;)!
Inspired and also want to spend less money on your groceries and eat delicious and healthy meals? In my book Fab and Fit on a Budget i share all my tips & tricks. And if you order it today (in Dutch only) i throw in free shipping Click here to order! and yes, it comes with a free weekplanner!