Ingrediënten voor 2 personen
Voor de mayonaise:
1 of 2 teentjes knoflook
2 eierdooiers (gooi het eiwit niet weg, hiervan gebruik je straks 2 theelepels in de burger en van de rest kun je een lekker omelet maken voor de lunch)
1 el azijn
1 tl gemberpoeder
1 tl mosterd
200 ml (rijst) olie
Sriracha saus (naar smaak)
Honing (naar smaak)
Voor de mangosalsa:
1 mango
1/2 rode peper
1/2 rode ui
1 tl kokosbloesemsuiker
Olijfolie
Snufje zout
Voor de burger:
2 broodjes
1 kipfilet
1/2 rode peper, fijngehakt
Paar schijfjes jalopeno, fijngehakt
1/2 rode ui, fijngehakt
2 tl eiwit
2 lepels havermout
1 tl chilipeperpoeder
Snufje zout & peper
Bereiden
Sriracha mayonaise:
Pers de teentjes knoflook en doe ze in een maatbeker. Voeg de overige ingrediënten toe, behalve de olie, sriracha saus en honing. Zet de staafmixer in de maatbeker en begin met mixen. Druppel langzaam wat olie erbij totdat het mengsel dikker wordt. Voeg daarna de rest van de olie in scheutjes erbij tot alles is opgenomen. Voeg hierna wat sriracha saus toe, begin met een klein beetje. Voeg vervolgens de honing toe en meng tot het lekker in balans is. Te spicy, voeg dan wat extra honing toe. Niet spicy genoeg, voeg wat meer sriracha toe. Proef tot je het perfect vindt.
Mango chutney (de snelle versie):
Snij de mango in blokjes, net als de halve rode peper en rode ui. Doe dit samen met de kokosbloesemsuiker en een klein scheutje olijfolie in een steelpannetje en verwarm dit op een middelhoog vuur totdat de mango, ui en rode peper zacht wordt. Stamp vervolgens (met een stamppotstamper) tot het een beetje grove chutney wordt. Voeg eventueel nog wat olijfolie toe en laat afkoelen.
Spicy chickenburger:
Doe alle ingrediënten (behalve natuurlijk de broodjes) in een keukenmachine en mix tot gehakt. Mocht het mengsel te nat zijn, voeg dan nog wat extra havermout toe. Laat even opstijven in de koelkast terwijl de mangochutney afkoelt. Vorm met natte handen twee even grote burgers en bak de burger gaar in een klein beetje olijfolie.
Bouw de burger. Snij de broodjes doormidden en smeer er wat sriracha mayonaise op. Leg er vervolgens eventueel nog wat sla op en wat rauwe rode ui ringen, leg de burger hier boven op en schep er wat mangochutney bovenop.
Lekker met ovenfrietjes. Enjoy!!!!!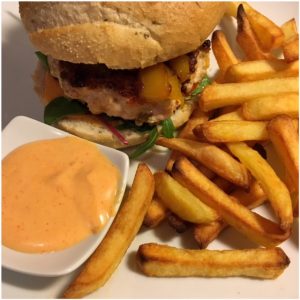 English version:
Ingredients for 2 persons:

Ingredients mayonaise:
1 or 2 gloves of garlic
2 egg yolks (don't throw out the egg white, you'll need two teaspoons for the burger and the rest can be used for a nice omelet for lunch)
1 spoon vinegar
1 teaspoon grounded ginger spice
1 teaspoon mustard
200 ml (rice) oil
Sriracha sauce (depending on your taste)
Honey (depending on your taste)
Ingredients mangochutney:
1 mango
1/2 red hot pepper
1/2 red onion
1 teaspoon coconut blossom sugar
Olive oil
Sprinkle of salt
Ingredients burger:
2 buns
1 chicken filet
1/2 red hot pepper, diced
Few slices jalopeno, diced
1/2 red onion, diced
2 teaspoons egg white
2 spoons oats
1 teaspoons grounded chilipepper spice
Sprinkle salt & pepper
Directions:

Sriracha mayonaise:
Ground the gloves of garlic and add to a measuring cup (or bowl of your immersion blender). Add the other ingredients except for the oil, sriracha sauce and honey. Put the immersion blender in the measure cup and start mixing. Slowly add some drops of oil untill the mixture thickens. Add the rest of oil little by little till all the oil is mixed in and the mixture is thick enough (and mayonaise) Add some sriracha sauce and start with a little bit. Add some honey and taste if it is to your liking. Too spicy, add a little more honey. Not spicy enough, add some more sriracha.
Mango chutney (the quick version):
Dice the mango, just like half of the red hot pepper and red onion. Add this and the coconut blossom sugar and a little olive oil in a pan and heat this on medium high heat untill the mango, onion and red pepper is softened. Smash with the back of a fork  to make a not too fine chutney. Optional: add a little more olive oil and let it cool down.
Spicy chickenburger:
Add all the ingredients (except ofcours the buns) in a kitchen mixer and blend till it's minced. If the mixture is too wet, add a little more oats. Put in the fridge and let it set for a while, while the mango chutney is cooling down. Form (make your hands a little wet, it will make it easier to make a burger) with your hands two burgers of the same size and cook completly through in a frying pan with a little olive oil.
Build your burger. Slice the buns and put some sriracha mayonaise on the bottom half. Add some lettuce and raw red onion rings (optional), top with the burger and top the burger with some mangochutney.
Enjoy with some oven fries and some leftover sriracha mayonaise, it's so good!!!!