Ingrediënten voor 1 a 2 personen:
100 gram kabeljauw (ik gebruik bevroren kabeljauw, aangezien deze in 4 stukjes van 100 gram komen en natuurlijk budgetproof)
1 ei
2,5 eetlepel paneermeel
1/4 lente ui, fijngesneden
1 klein rood pepertje, fijngesneden
Kneepje limoensap
Snufje cayenne poeder (naar smaak)
Snufje citroengras (gedroogd, naar smaak)
1 eetlepel bloem en eventueel een klein beetje om te bestrooien
Voor de topping:
1/4 komkommer, in sliertjes (handig met een kaasschaaf/dunschiller)
1 eetlepel azijn
1/2 theelepel poedersuiker
Voor de saus:
1 eetlepel mayonaise
1 theelepel sriracha of soortgelijke spicy saus
1/2 theelepel honing
Broodje en eventueel sla
Bereiding:
Snij of schaaf de komkommer in slierten en meng in een bakje de azijn en poedersuiker en marineer de komkommer hierin. Zet in de koelkast tot gebruik.
Maak een sausje met de mayonaise, sriracha en honing en zet in de koelkast tot gebruik.
Doe de kabeljauw met een ei in de hakmolen van een keukenmachine en maal fijn. Voeg de paneermeel, bloem, lente ui, rode peper, cayenne poeder en het citroengras poeder toe. Vorm met natte handen 1 grote of 2 kleinere burgers. Bestrooi eventueel nog met een beetje bloem. Bak in de pan eerst op hoog vuur beide kanten aan en bak verder gaar op laag vuur.
Snij het broodje open en smeer de saus erop en beleg met een beetje sla, de visburger en top met de komkommer.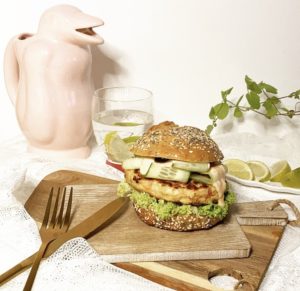 English version
Ingredients for 1 or 2 persons:
100 gram cod (i use the frozen ones as they come in 4 pieces of 100 gram each and are ofcourse budgetproof)
1 egg
2,5 spoon bread crumbs
1/4 spring onion, finely chopped
1 small red pepper, finely chopped
Squeeze of lime juice
Sprinkle cayenne powder (to taste)
Sprinkle lemongras (dried, to taste)
1 spoon flour and a little extra to sprinkle over the burger
For the topping:
1/4 cucumber, sliced (easier with a cheese slicer/peeler)
1 spoon vinegar
1/2 teaspoon powdered sugar
For the sauce:
1 spoon mayonaise
1 teaspoon sriracha or another spicy sauce
1/2 teaspoon honey
Bun and optional lettuce
Direction:
Cut or slice the cucumber and mix in a bowl the vinegar and powdered sugar and marinate the cucumber in this. Put in the fridge till use.
Make a sauce of the mayonaise, sriracha and honey and put in the fridge till use.
Put the cod with an egg in the choper of your kitchen machine and chop finely. Add the breadcrumbs, flour, spring onion, cayenne powder and the lemon grass. Make 1 big or 2 small burgers using wet hands. Sprinkle with a little bit of flour. Bake on high first on both side, than let it cook through on low. Cut the bun open, spread the sauce on it, top with lettuce, the fishburger and the cucumber.