Ingrediënten 2 tot 4 personen (afhankelijk voor lunch of diner):
4 plakjes bladerdeeg
2 eieren
150 ml "melk" (ik gebruik sojamelk maar het kan natuurlijk ook met gewone melk of room)
1 prei
1 ui
50 gram vegetarische "spek" reepjes (ik gebruik de plant spekjes van Vivera)
75 gram geraspte kaas
Snufje nootmuskaat
Peper en Zout
Bereiding:
Verwarm de oven voor op 200 graden.
Laat 4 plakjes bladerdeeg ontdooien. Vet een kleine quichevorm of bakvorm in met wat boter of olie. Bak in de pan de "spekjes" gaar en zet apart. Bak in dezelfde pan de ui en prei zacht met een klein scheutje water en zet apart. Bedek de quichevorm/bakvorm met de plakjes bladerdeeg. Druk het zo aan dat je een opstaande rand krijgt. Prik met een vork gaatjes in de bodem. Meng in een kom de eieren, melk, geraspte kaas, nootmuskaat, peper en zout. Beleg de bodem met de prei, ui en "spekjes, schenk hierover het eiermengsel. Bak in de voorverwarmde oven in 20 minuten gaar. (zorg dat de vulling niet meer vloeibaar is. Is dit wel het geval, zet nog even terug in de oven).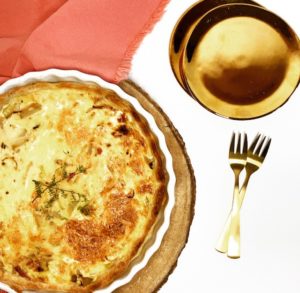 English version
Ingredients for 2 to 4 persons (depending if it's lunch or diner):
4 sheets of puff pastry
2 eggs
150 ml "milk" (i use soy milk, but you can also use real milk or cream)
1 leek
1 onion
50 gram vegetarian "bacon" pieces (i use plant spekjes of Vivera)
75 gram grated cheese
Sprinkle of nutmeg
Pepper and salt
Direction:
Preheat the oven to 200 degrees celcius.
Defrozed 4 pieces of puff pastry. Grease a quiche or bakingpan with a little oil or butter. Bake the "bacon"in a pan and set aside. Bake in the same pan the leek and onion with a little water untill soff and set aside. Cover the quiche/bakingpan with the puffpastry. Press so it forms a raised edge. Use a fork to make small holes in the base. Mix in a bowl the eggs, milk, grated cheese, nutmeg, pepper and salt. Cover the base with the leek, onion and "bacon", pour the egg mixture over it. Bake in the preheated oven for 20 minutes. (make sure the filling isn't fluid anymore. If it is, but it back in the oven for a little while longer).