Ingredienten:
5 rijpe persimons (ook wel kaki of sharonfruit genoemd)
sap van 1 perssinaasappel
1/2 theelepeltje kaneel
1 theelepel suiker (optioneel)
Bereiding:
Snij de persimons in stukken en haal de schil eraf. Doe in een pannetje en voeg het sinaasappelsap, kaneel en eventueel suiker toe. Laat een half uur op laag vuur pruttelen. Roer af en toe door. De persimon valt al uit elkaar maar als je het iets fijner wilt kun je het met een stamppotstamper nog fijner stampen. Schep in een potje (steriliseer het potje door er kokend water in te gieten). Doe de deksel erop en laat op zijn kop afkoelen zodat het tegelijkertijd vacuüm trekt en langer houdbaar is. Lekker door de kwark, op pannenkoeken of bij kip (met bijv. couscous).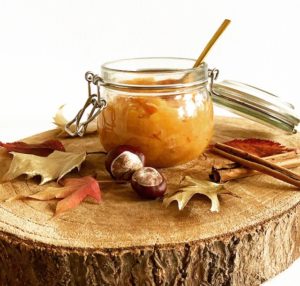 English version
Ingredients:
5 persimons (also known as kaki or sharonfruit)
juice of 1 orange
1/2 teaspoon cinnamon
1 teaspoon sugar (optional)
Direction:
Cut the persimon in pieces and get ride of the peel. Put in a pan and add the orange juice, cinnamon and sugar. Let is shimmer for half an hour. Stire every once in a while. The persimons fall apart really easy but if you want it smoother, use an potato masher to mash it even finer. Pour it in a jar (sterilize the jar by pouring boiling water in it). Put the lid on it and let it cool down up side down. This way it will vacuum and it will have a longer shelf life. Delicious in yoghurt, on pancakes or with chicken (with for example some couscous).