Ingredienten 1 persoon:
80 gram macaroni
1/4 kleine pompoen
4 champignons
50 gram bacon reepjes
1 theelepel chilipoeder
1 grote eetlepel roomkaas
olie
Eventueel nog een beetje geraspte kaas
Bereiding:
Verwarm de oven voor op 200 graden. Snij de pompoen in blokjes (je kan de schil er gewoon aan laten zitten). Doe de pompoen in een ovenschaaltje en schep om met een beetje olie en de chilipoeder. Bak ongeveer in 15 tot 20 minuten gaar. Kook ondertussen de macaroni met een klein beetje zout. Snij de champignons in vieren en bak samen met de bacon in een andere pan. Giet de macaroni af en roer er de roomkaas door. Schep de macaroni in diep bord of bowl. Haal de pompoen uit de oven en schep op de macaroni en voeg ook de champignons en bacon toe. Strooi er eventueel nog een klein beetje geraspte kaas over.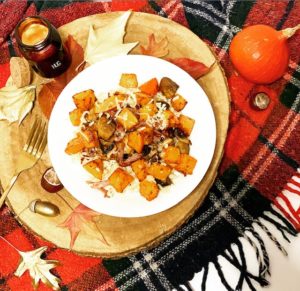 English version
Ingredients 1 person:
80 gram macaroni
1/4 small pumpkin
4 mushrooms
50 gram bacon bits
1 teaspoon chilipowder
1 big spoon creamcheese
oil
Grated cheese, optional
Directions:
Preheat the oven to 200 degrees celcius. Cut the pumpkin in dices (you can leave the peel on). Put the pumpkin in an ovendish and pour some oil and chilipowder over it and mix making sure every piece of pumpkin is covered. Bake 15 to 20 minutes in the oven (till soft but not too soft). In the meanwhile cook the macaroni with a bit of salt. Cut the mushrooms in 4 pieces and bake together with the bacon in a pan.
Drain the macaroni and mix with the creamcheese. Take the pumpkin out of the oven and top the macaroni with it, add the mushrooms and bacon. Optional: sprinkle with some grated cheese.