Ingrediënten voor 2 personen (of 4 als lunch):
Deeg voor hartige taart (bijv. kant & klaar van AH of Tante Fanny), genoeg om de bodem en bovenkant van je vorm te bedekken.
200 gram (mager) rundergehakt
1/6 pompoen, in kleine blokjes
1/2 ui, gesnipperd
1 teentje knoflook, geperst
Handje rozijnen
1/2 theelepel kaneel
1 theelepel Cayennepeper
2 snufjes zout
een klein beetje (plantaardige) melk of losgeklopt ei
Bereiding:
Verwarm de oven voor op 200 graden. Snij de pompoen in kleine blokjes. Doe deze in een ovenschaaltje en schep om met een klein beetje olie en een snufje zout. Bak ongeveer 15 tot 20 minuten.
Rol het deeg uit en snij 2 x in de vorm van je bakblik. Vet het bakblik in en leg in van de deegplakken op de bodem en maak er gaatjes in met je vork.
Kruid het gehakt met de kaneel, cayennepeper en een snufje zout. Bak in de pan in een klein beetje olie de ui en knoflook aan. Voeg het gehakt toe. Bak het niet te gaar, het gaat nog de oven in en anders wordt het heel droog.
Haal de pompoen uit de oven en voeg bij het gehakt en voeg dan de rozijnen toe. Doe dit in de bakvorm en bedek met de andere helft van het deeg. Maak je het voor Halloween snij dan van tevoren het gezichtje eruit. Anders prik er gaatjes in om het stoom te laten ontsnappen tijdens het bakken. Bestrijk het deeg met de (plantaardige) melk of ei en bak af in de oven in ongeveer 30 minuten. (afhankelijk van je oven dus altijd tussendoor even checken of het deeg al gaar is).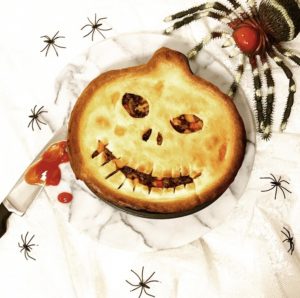 English version
Ingredients for 2 persons (or 4 for lunch) (of 4 als lunch):
Pie dough (ready made from Albert Heijn or Tante Fanny), enough to cover the bottom and top of your baking mold.
200 gram (lean) minced beef
1/6 pumpkin, in little squares
1/2 onion, finely chopped
1 clove of garlic, finely chopped or use a garlic press
Handfull raisins
1/2 teaspoon cinnamon
1 teaspoon Cayenne pepper
2 sprinkles of salt
a little bit of (plantbased) milk or beaten egg
Directions:
Preheat the oven to 200 degrees celcius. Cut the pumpkin in small squares. Put them in a ovendish and sprinkle with a little oil and salt. Bake for about 15 to 20 minutes.
Roll out the dough and cut 2 pieces in the shape of your baking mold. Grease the baking mold and put one of the pieces on the bottom. Use a fork to make little holes in it.
Spice the beef with the cinnamon, cayenne pepper and a sprinkle of salt. Bake in a pan the garlic and onion with a little oil. Add the beef. Don't overcook it, as it still needs to go in the oven and you don't want it too dry.
Take the pumpkin out of the oven and add to the beef and than add the raisins. Put it in the baking mold and cover with the other piece of dough. If you make it for Halloween, cut out the "face" beforehand. Otherwise, still use a fork to make holes in the dough to let the steam out while baking. Coat the topping with the (plantbase) mil or egg and bake in the oven for about 30 minutes. (depending on the oven, so always check if the dough is already nice & crispy).