Ingrediënten:
1 liter water
1/2 pompoen
1 zoete aardappel
1/2 maggiblokje
1/2 kippenbouillonblokje
1/2 ui
1 teentje knoflook, geperst
1 theelepel chilipoeder
1/2 theelepel kaneel
1 cm gember, geschild en fijngehakt (dit kan ook met de knoflookpers)
sap van een halve sinaasappel (of van een kleine sinaasappel)
Bereiding:
Schil de pompoen en snij in stukjes. Doe hetzelfde met de zoete aardappel. Snij de ui in stukjes. Doe een klein beetje olie in de pan en bak de ui samen met de knoflook zachtjes aan. Voeg de aardappel en pompoen toe en het water. Voeg de rest van de ingredienten toe. Breng aan de kook en laat daarna op een laag vuur ongeveer een half uur pruttelen. Prik met een vork in de pompoen of zoete aardappel, is deze zacht, haal dan het pan van het vuur en pureer met een staafmixer. Je kan er eventueel nog een klein beetje room aan toevoegen, al is dat door de zoete aardappel niet echt nodig. Ook lekker, wat uitgebakken spekjes als topping.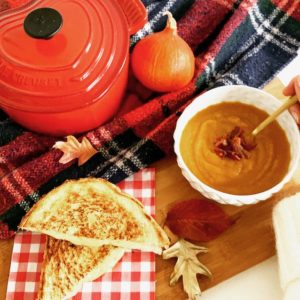 English version
Ingredients:
1 liter water
1/2 a pumpkin
1 sweet potato
1/2 maggi cube (dried)
1/2 chicken stock cube (dried)
1/2 onion
1 clove of garlic, finely chopped
1 teaspoon chilipowder
1/2 teaspoon cinnamon
1 cm gember, peeled and chopped finely (you can also use a garlic press for this)
juice of half an orange (or from a small orange)
Direction:
Peel the pumpkin and chop in pieces. Do the same to the sweet potato. Cut the onion in pieces. Put a little oil in a pan and bake the onion together with the garlic slowly. Add the potato and pumpkin and the water. Add the rest of the ingredients. Bring to a boil and let it shimmer on low for about half an hour. Use a fork to find out if the pumpkin or sweet potato is cooked enough. If soft, take it of the heat and pureer with a handheld mixer. You can add some cream but because of the sweet potato it's pretty creamy already. You can top it with some bacon, if you like.