Ingrediënten:
1 blikje tonijn (ik gebruikte Fishtales tonijn in water)
25 gram paneermeel (Tip: ik had geen paneermeel meer maar wel crackers en dit werkt ook perfect!)
1 ei
1/2 rode ui
Handje koriander
1 theelepel limoensap
Chiliflakes, naar smaak
Bijgerechtje:
Kleine komkommer
1 eetlepel azijn
1 theelepel (Poeder)suiker
Bereiding:
Hak de koriander en rode ui fijn en meng met de tonijn, paneermeel en ei in een kom. Voeg het limoensap en de chiliflakes erbij en meng goed door. Zet in de koelkast om iets steviger te worden.
Maak ondertussen het bijgerechtje. Gebruik een kaasschaaf of dunschiller om reepjes te maken van de komkommer. Meng 1 eetlepel azijn met 1 theelepel poedersuiker en leg de reepjes komkommer hierin. Zet in de koelkast tot gebruik.
Verhit een beetje olie (eventueel met een paar druppeltjes sesamolie) in een pan. Vorm mooie ronde "koekjes" van het tonijnmengsel en bak in de koekenpan bruin aan beide kanten.
Serveer met de komkommer en een lekker dipsausje, zoals de Mango Ketchup van de Ketchup Project.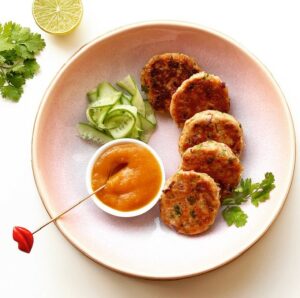 English version
Ingredients:
1 can of tuna (i used Fishtales tuna in water)
25 gram bread crumbs (Tip: i didn't have any bread crumbs but i did have crackers and this worked perfectly aswell!)
1 egg
1/2 red onion
Handfull coriander
1 teaspoon lime juice
Chiliflakes, to taste
Side dish:
Small cucumber
1 spoon vinegar
1 teaspoon (icing) sugar
Directions:
Chop the coriander and red onion finely and mix with the tuna, breadcrumbs and egg in a bowl. Add the lime juice and the chili flakes and mix well. Put in the fridge to let it set/make it firmer.
In the meanwhile make the sidedish. Use a cheeseslicer or potato slicer to make slices of the cucumber. Mix 1 spoon vinegar with one teaspoon (icing) sugar and add the cucumber. Put in the fridge till use.
Heat some oil (optional a few drops sesame oil) in a pan. Make nice rond "cakes" with the tuna mixture and bake in a pan till browned on both sides.
Serve with the cucumber and a nice dipping sauce, like the Mango Ketchup of the Ketchup Project.