Maandag 23-8:
Ontbijt: Skyr Crème Brûlée
Lunch: 2 mueslibollen met pindakaas en banaan
Diner: 6 stukjes sushi en 2 teriyaki kip spiesjes
Tussendoortje: Haribo (yup, kon het niet weerstaan tijdens het shoppen in Duitsland)
Drinken: Fanta (de Duitse versie, zoveel lekkerder!), thee 1 x, aanmaaklimonade 0% sugar 4x, Optimel 1x
Bewegen: ik had op dinsdag spierpijn in mijn benen van het trap lopen…boodschappen doen in Duitsland is een hele workout (weightlifting, cardio, uphill walks)
Dinsdag 24-8:
Ontbijt: Kwark met cruesli
Lunch: 4 sneetjes brioche brood, waarvan 2 als tosti met Ementaler en 2 met kip in aspic
Diner: 4 hardshell taco's met vega gehakt, sla, tomaat, avocado, cheddar en mango-papaya salsa
Drinken: 6 x aanmaaklimonade 0% sugar, 2 x Optimel
Bewegen: heb helaas de gym reservering moeten cancellen, hoofdpijn en slaaptekort 🙁

Woensdag 25-8:
Ontbijt: Smoothiebowl van banaan & rood fruit en cruesli
Lunch: Salade met sla, tomaat, komkommer, avocado, ei, kaas en thousand island dressing
Diner: Chicken curry met rijst
Tussendoortje: Corny Light reep, 1 stukje chocolade en honey roasted nootjes
Drinken: proteineshake van Fitshe, Optimel, Caramel Latte en 600 ml water (bidon)
Bewegen: Upperbody workout

Donderdag 26-8:
Ontbijt: Smoothie met kokosmelk, avocado, banaan, perzik, rood fruit en agavesiroop
Lunch: 3 sneetjes brioche brood met 2 x kip in aspic en 1 x kaas
Diner: Gebakken camembert met cranberry saus en een salade met sla, tomaat, komkommer, kaas en Thousand Island dressing
Tussendoortje: Honey roasted nootjes, 2 koekjes
Drinken: 500 ml water, Optimel, limonade 0% sugar
Bewegen: Legday workout
Vrijdag 27-8:
Ontbijt: Kwark
Lunch: Ikea Hot Dog met ketchup en mosterd
Diner: Honey Mustard zalm met mosterd aardappeltje (klik hier voor het recept)
Tussendoortjes: Corny light reep, 2 mini daim, 1 wolkentoetje chocolade
Drinken: Optimel, limonade 0% suiker
Bewegen: Mijn energie is laag vandaag, dus geen gym workout.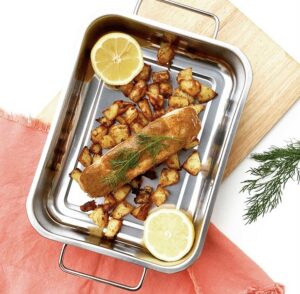 Zaterdag 28-8:
Ontbijt: 3 brioche wentelteefjes met rode vruchten saus
Lunch: pistoletje met kaas (en lurpak)
Diner: 3 kippendrumsticks, honey mustard chips en mango papaya salsa
Tussendoortjes: Corny light reep
Drinken: cola zero, limonade 0% sugar
Bewegen: huis schoonmaken en boodschappen doen, maar verder nope…

Zondag 29-08:
Brunch: 2 croissantjes met kaas en aardbeienjam
Tussendoortjes: Baileys chocolade reep
Diner: Biefstuk en friet
Drinken: thee 3x, Caramel latte, Optimel en lemonade 0% sugar
Bewegen: Another lazy day

Totaal gewichtsverlies: +0,7 kg, ja toch maar even batterijen gekocht voor de weegschaal en helaas gaf ie inderdaad een +je aan. Balen ja, ik had inmiddels nog een kilo eraf moeten hebben. Zijn er erger dingen op deze wereld, ook ja! En we gaan gewoon extra mijn best doen voor de laatste 3 weekjes…gelukkig pas ik ook gewoon nog in mijn birthdaysuit dus om 0.00 uur als ik champagne in bad drink, hoef ik me daar geen zorgen over te maken ;)!
English version
Monday 23-8:
Breakfast: Skyr Crème Brûlée
Lunch: 2 musli buns with peanutbutter and banana
Diner: 6 pieces sushi and 3 teriyaki chicken skewers
Snack: Haribo (yup, couldn't resist during shopping in Germany)
Drinks: Fanta (the German version, so much better than the Dutch!), tea 1 x, lemonade 0% sugar 4x, Optimel 1x
Bewegen: on Tuesday i had muscle pain in my legs from going up and down on the stairs…doing groceries in Germany is a real workout (weightlifting, cardio, uphill walks)!!!
Tuesday 24-8:
Breakfast: Quark and cruesli
Lunch: 4 brioche slices, 2 used for a grilled cheese with swiss cheese and 2 with chicken in aspic
Diner: 4 hardshell taco's with vega minced meat, lettuce, tomato, avocado, cheese and manog papaya chutney
Drinks: 6 x lemonade 0% sugar and 2x Optimel
Bewegen: had to cancel the gym because of an headache and lack of sleep

Wednesday 25-8:
Breakfast: Smoothiebowl with banana and redfruit and cruesli
Lunch: Salad with lettuce, tomato, cucumber, avocado, cheese, egg and Thousand Island dressing
Diner: Chicken Curry and rice
Snacks: 1 Corny light bar, 1 piece of chocolade and honey roasted nuts
Drinks: proteinshake of Fitshe, Optimel, Caramel Latte and 600 ml water (bidon)
Exercise: Upperbody workout

Thursday 26-8:
Breakfast: Smoothie with coconut milk, avocado, banana, peach, red fruit and agave
Lunch: 3 brioche slices, 2 with chicken in aspic and 1 with swiss cheese
Diner: Baked camembert with cranberry sauce and salad with lettuce, tomato, cucumber, cheese and Thousand Island Sauce
Snacks: Honey Roasted Nuts and 2 cookies
Drinks: 500 ml water, Optimel, 0% sugar lemonade
Bewegen: Legday
Friday 27-8:
Breakfast: Quark
Lunch: Ikea Hot Dog with ketchup and mustard
Diner: Honey Mustard Salmon with mustard potatoes (click here for recipe)
Snacks: Corny light bar, 2 mini daim, chocolate mousse dessert
Drinks: Optimel, lemonade 0% sugar
Exercise: low energy, so no gym workout today!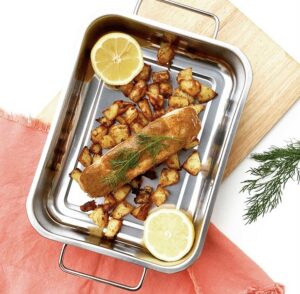 Saturday 28-8:
Breakfast: 3 brioche French Toast with red fruit sauce
Lunch: French small baquette with swiss cheese and butter
Diner: 3 drumsticks, honey mustard crisps and mango papaya salsa
Snacks: Corny light bar
Drinks: Cola zero, 0% sugar lemonade
Exercise: Cleaning the house and groceries but yeah nope…

Sunday 29-08:
Brunch: 2 croissants with cheese and strawberry jelly
Snacks: Baileys chocolate bar
Diner: Steak and fries
Drinks: tea 3x, Optimel, Caramel latte, 0% sugar lemonade
Exercise: Another lazy day

Total weightloss: +0,7 kg, yes, i did buy batteries for my scale and it did, unfortunately, showed a +. Sucks, yes, i should have lost another kg. Are there worst things in this world, also yes! And we are just gonna try a little extra these last 3 weeks…and fortunately i do fit in my birthdaysuit, so at 0.00 hours when i'm drinking champagne in the bath, i don't have to worry about that ;)!