Maandag 6-9:
Ontbijt: Kwark, muesli en rood fruit
Lunch: Salade met sla, tomaat, kaas, "bacon" en Thousand Island dressing
Diner: Bonen chili burger op een brioche bun van Boon met sla, augurk en mango chutney
Tussendoortje: druiven, bananenbrood van Sunt met pindakaas (caramel zeezout)
Drinken: water en limonade (0% sugar)
Bewegen: Legday

Dinsdag 7-9:
Ontbijt: Bananensplit met banaan, kwark, Sunt granola, honing en chocolate chips
Lunch: Bagel met creamcheese en gerookte zalm
Diner: Quesadilla met pulled chicken, paprika, tomaat, ui, jalopenos en kaas
Tussendoortje: druiven
Drinken: water, cranberry sap en ijskoffie
Bewegen: wandelen

Woensdag 8-9:
Ontbijt: Smoothie met avocado, banaan, ananas, mango, sojamelk, limoensap en agavesiroop en een gekookt eitje
Lunch: Brioche met steak tartar bij Restaurant Rak in Tilburg met Anne van Annetravelfoodie
Diner: uhmmm…geen zin om te eten, dus een paar koekjes en klein zakje chips als avondeten
Tussendoortje: Ijsje, 2 bolletjes (Salted Caramel en Tonkabonen)
Drinken: Gemberbier, water, cola
Bewegen: Wandelen met Anne door het Piushaven gebied in Tilburg

Donderdag 9-9:
Ontbijt: Wafels met gegrilde ananas en beetje chili
Lunch: Panini met roomkaas en gebakken ei
Diner: Spaghetti met tomatensaus van FoodFellows met extra groenten, vega gehakt en kaas
Tussendoortje: Koek van Koeckebacker, chocolade van Handsoff
Drinken: Cranberry sap, latte caramel en water
Bewegen: nope, lazy day

Vrijdag 10-9:
Ontbijt: Nicecreamshake en bananenbrood met pindakaas
Lunch: Kwarktaart
Diner: Bang Bang zalmfilet met rijst
Tussendoortjes: toastjes met beleg, 2 handjes chips, hapjes (verjaardag)
Drinken: Cola zero, water, cranberry sap
Bewegen: weer niet 🙁
Zaterdag 11-9:
Ontbijt: Smoothie met mango, ananas, banaan, blauwe bessen, agave, sojamelk met koekjes van Farm Brothers (Maple Pecan…aanrader!!!)
Lunch: 2 plakjes bananenbrood van Sunt met pindakaas
Diner: Only Cheeseburger met gebakken camembert, sla, truffelmayonaisse, gebakken prosciutto, cranberry saus en vijg
Tussendoortjes: koekjes, vegan chocolade van Handsoffmychocolate
Drinken: water, latte caramel, cola zero
Bewegen: uhmmm…nope!

Zondag 12-9:
Brunch: Crêpes met aardbeienjam
Tussendoortjes: koekjes van Farm Brothers en chocolade
Diner: Pizza Funghi van Albert Heijn
Drinken: IJskoffie en water
Bewegen: en weer een very lazy day! 🙂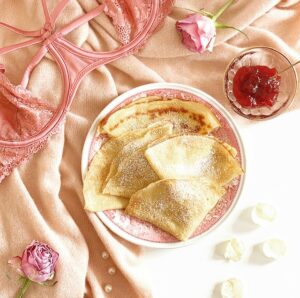 Totaal gewichtsverlies: 0 kg, gelijk gebleven dus, en dat is eigenlijk ook niet zo gek. Ik heb amper gesport of bewogen deze week (lage energie en lage motivatie) en ook een beetje gekke eetmomentjes gehad. Dus ik ben bang dat ik voor mijn verjaardag maar een ander jurkje mee moet nemen, maar goed dat ik genoeg leuke back-ups heb. En dat andere jurkje bewaar ik dan maar voor kerst 202.?
English version
Monday 6-9:
Breakfast: Quark with muesli and red fruit
Lunch: Salad with lettuce, cheese, tomato, "bacon" and Thousand Island dressing
Diner: Bean Chili Burger of Boon on a brioche bun with pickle, trufflemayonaisse, lettuce and mango chutney
Snack: grapes, bananabread of Sunt with caramel seasalt peanutbutter
Drinks: water, lemonade 0% sugar
Bewegen: Legday

Tuesday 7-9:
Breakfast: Bananasplit with quark, granola of Sunt, honey and chocolate chips
Lunch: Bagel with creamcheese and salmon
Diner: Quesadilla with pulled chicken, bellpepper, tomato, jalopeno onion and cheese
Snack: grapes
Drinks: water, cranberry juice and ice coffee
Bewegen: walking

Wednesday 8-9:
Breakfast: Smoothie with avocado, banana, pineappple, mango, soy milk, lime juice, agave and a boiled egg
Lunch: Brioche with Steak Tartare at Restaurant Rak in Tilburg with Anne of Annetravelfoodie.
Diner: uhmm…didn't feel like eating, so dinner was a few cookies and a mini bag of crisps
Snacks: Icecream, 2 scoops (Caramel Seasalt and Tonka beans)
Drinks: Gingerbeer, water, cola
Exercise: walking in the Pius Haven area of Tilburg with Anne

Thursday 9-9:
Breakfast: Waffles with grilled pineapple and chiliflakes
Lunch: Panini with creamcheese and baked eggs
Diner: Spaghetti with tomatosauce of Foodfellows, extra veggies, vega minced meat and cheese
Snacks: Cookie of Koeckebacker, chocolate van Handsoff
Drinks: Cranberry juice, latte caramel, water
Bewegen: Nope, lazy day
Friday 10-9:
Breakfast: Nicecreamshake and bananabread with peanutbutter
Lunch: Quarkcake
Diner: Bang Bang salmon with rice
Snacks: Toast with salads, 2 handfulls of crisp and snacks (birthday)
Drinks: cola zero, cranberry juice, water
Exercise: nope 🙁
Saturday 11-9:
Breakfast: Smoothie with mango, pineapple, banana, blueberries, agave, soymilk and cookies of Farm Brothers (Maple Pecan…so good!!!)
Lunch: 2 slices bananabread of Sunt with peanutbutter
Diner: Only Cheeseburger on a brioche bun with trufflemayonaisse, rocket, baked camembert, cranberry sauce and fig
Snacks: cookies and vega chocolate of Handsoff
Drinks: water, latte Caramel, Cola Zero
Exercise: uhmmm…nope!

Sunday 5-9:
Brunch: crêpes with strawberry jam
Snacks: cookies and chocolate
Diner: Pizza Funghi of Albert Heijn
Drinks: Icecoffee, water
Exercise: Another lazy day :)!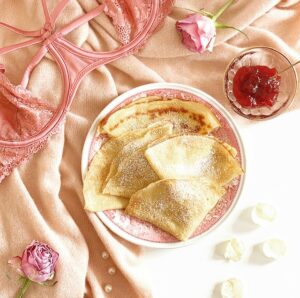 Total weightloss: 0 kg, stayed the same, which isn't that weird. I hardly worked out or moved this week (low energy and low motivation) and had some weird eat moments. So i'm afraid i have to bring another dress for my birthday, but luckly i have enough nice back-ups. And that other dress i will save for Christmas 202.?