Nog een weekje en dan wordt ik al weer 43 !!! En voor diegene die mij net kennen, i love getting older…he wat?!?? Ja ik heb dus geen moeite met dat jaartje ouder, en nee niet wijzer, maar wel een stuk zelfverzekerder!
Toen ik door mijn blog aan het bladeren was, kwam ik mijn Fab@40 challenge tegen, en nu bijna 3 jaar later kan ik bijna alles van mijn lijstje strepen. Okay niet het jojo-en maar daar geven we dat C-gebeuren maar even de schuld van ;)! Maar de een na laatste op het lijstje…bringing sexy back die wordt mij wel heel makkelijk gemaakt door Hunkemöller!
Nu hield ik altijd wel van mooie setjes maar vaak vergat ik mijzelf hierop te trakteren.
En een mooi lingerie setje, body of gewoon een mooi broekje hoeft helemaal niet duur te zijn. Zo laat ik regelmatig de Wheel of Passion voorbij komen in mijn stories. En dat is niet het enige voordeel van een membership card van de Hunkemöller. Zo houden ze regelmatig Membersday events, waar je dus met korting (vaak tot wel 20%) de mooiste lingerie kunt bemachtigen.
Zo scoorde ik dus laatst deze bh uit de Private collection voor maar €1,59. Ja je leest het goed. Ik heb deze bh een tijdje geleden in het roze gekocht…normaal zou ik denken, veels te sexy maar ik dacht: so what?!?? En eerlijk, i love it, hij zit zo mooi en voel me er zo sexy in, dus nu ook maar in het zwart! Overigens dit keer wel met een ander broekje want uhm, vorige keer drukte ik zonder er bij na te denken op het bijpassende broekje en werd thuis verrast op een wel heel bloot exemplaar…ik had het woord kruisloos over het hoofd gezien 🙈! Overigens wel gewoon gehouden want ben te lui om te retourneren en wie weet wat de toekomst brengt ;)!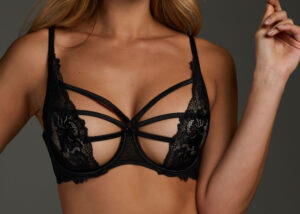 En 16 september, yep een paar dagen voor mijn verjaardag, is de volgende Membersday en ik heb al aardig wat leuke dingetjes op mijn wishlist van de Hunkemoller app gezet. En laten ze nu net een prachtige collectie van Rebecca Mirr hebben gelanceerd, perfect voor in de koffer voor mijn birthday weekend!
Bringing sexy back ook on a budget (en op je 43ste!!!) is so fabulous…thanks Hunkemoller 💋!
English version:
Just one more week and i'm turning 43 !!! And for those who know me, i love getting older…uh what?!?? Yes, i don't mind getting another year older, and no not wiser, but definetly more confident!
When i was going through my blog, i noticed my Fab@40 challenge and now, almost 3 years later, i can check of almost everything on the list. Okay, not the yoyo weight problem, but we are just gonna blame the whole C-stuff for that ;)! But the second last… bringing sexy back is so easy thanks to Hunkemöller!
I have always loved nice lingerie but i forgot treating myself to it way too often.
And a nice lingerie set, body or just a cut bottom doesn't have to be expensive. As i show in my stories were you see the Wheel of Passion on a regular base. And that's not the only advantage of having a membership card of the Hunkemöller. They have regular Membersday events, where you can score the most gorgeous lingerie with a discount (up to 20%).
So i scored this bra from the Private collection for only €1,59. Yes, that's right! I bought this bra a while ago in pink…normally i would think, way too sexy, but than i thought: so what?!?? And honestly, i love it, it fits perfectly and i feel so sexy in it, so now i went for black! BUT this time with another bottom as uhm, last time i just pressed on the string that was part of the set and got a surprised when i opened the package and found a rather skimpy piece…appearantly i didn't see i said open crotch 🙈! I did end up keeping it as i'm too lazy to return it and who knows what the future brings ;)!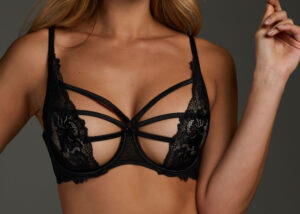 And on September 16, yup a few days before my birthday, there's another Membersday and i have a lot of things on my wishlist of the Hunkemöller app. And they just launched the beautiful collection of Rebecca Mirr, perfect for in the suitcase for my birthday weekend!
Bringing sexy back also on a budget (and at 43!!!) is so fabulous…thanks Hunkemoller 💋!