Ingredienten:
4 sneetjes oud wit casinobrood
1 ei, losgeklopt
100 ml (plantaardige) melk
Klein beetje vanille aroma of vanille suiker
2 eetlepels bruine suiker
1 theelepel kaneel
Dulce de leche (dit kun je zelf maken door een blik gecondenseerde melk te koken tot caramel, of koop het kant & klaar zoals ik heb gedaan. Ik gebruik de caramel van Carnation, verkrijgbaar bij de Toko)
Extra benodigdheden: uitsteekvormpje in ster vorm
Bereiding:
Steek met het vormpje sterretjes uit het brood. Klop het ei los met de (plantaardige) melk en vanille. Verhit boter in een pan. Haal de sterretjes door eimengsel. Mix de bruine suiker met de kaneel in een kommetje. Bak de sterretjes goudbruin in de pan en haal direct erna door de kaneelsuiker. Serveer met Dulce de Leche.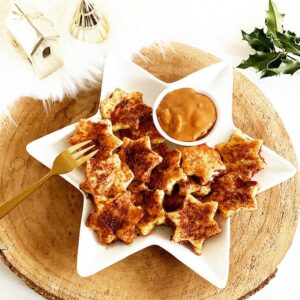 English version:
Ingredients:
4 slices old white toast bread
1 egg, beaten
100 ml (plantbased) milk
Little bit vanilla aroma or vanilla sugar
2 spoons brown sugar
1 teaspoon cinnamon
Dulce de leche (you can make this yourself by boiling a can of condensed milk untill it becomes caramel, or buy it in the store, like i did in this case. I used the caramel of Carnation, available at the Asian supermarket (in Holland)
Extra needed: cookie cutter in star shape
Directions:
Cut the stars out of the bread. Beat the egg with the (plantbased) milk and vanilla. Heat butter in a pan. Dip the stars in the egg mixture. Mix the brown sugar and cinnamon in a bowl. Bake the stars golden brown in the pan and dip into the cinnamon sugar. Serve with the Dulce de Leche.