Ingrediënten voor ongeveer 1 liter soep:
40 gram boter
4 middelgrote uien
100 ml witte wijn
2 eetlepels bloem
Snufje peper en zout
Tijm, naar smaak
1 liter (kippen)bouillon
Stokbrood
Geraspte Gruyère kaas
Bereiding:
Verhit de boter in een pan met dikke bodem. Snij de uien in dunne ringen en voeg toe. Laat karameliseren (lichtbruin). Roer regelmatig. Blus af met de witte wijn. Laat nog even sudderen. Voeg de bloem toe en roer goed door. Bak even aan. Voeg de tijm en peper & zout toe. Voeg vervolgens de bouillon toe. Laat een half uurtje sudderen. Snij een stukje stokbrood af en beleg met de geraspte kaas. Heb je vuurvaste soepkommen, vul met de soep, leg het stokbrood erin en zet even onder de grill. Geen ovenvaste kommen. Leg het stokbrood met kaas even onder grill en serveer in de soep net voor het opdienen.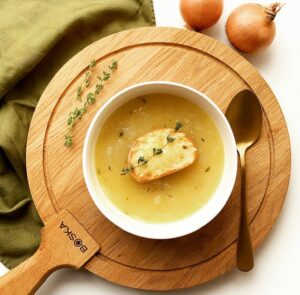 English version:
Ingrediënten for approximately 1 liter soup:
40 gram butter
4 medium onions
100 ml white wine
2 spoons flour
Sprinkle salt and pepper
Thyme, to taste
1 liter (chicken)stock
Baquette
Grated Gruyère cheese
Directions:
Heat the butter in a pan with a thick bottom. Slice the onion in thin slices. Let it caramelize (light brown). Stir regularly. Pour some white wine over it. Let it shimmer a bit. Add the flour and stir well. Bake for a little while. Add the thyme and salt & pepper. Add the stock after that. Let it shimmer for about half an hour. Cut a piece of the baquette and top with the cheese. If your soup bowls are heat/oven resistent, pour in the soup, top with the baquette and put under the broiler. Don't have heat/oven resistent. Just put the baquette with cheese under the broiler and serve in the soup just before serving.