Ingrediënten voor een volle pan:
50 gram boter
50 gram bloem
1 liter (groente) bouillon
100 gram "kip" stukjes (vega bijv. van AH huismerk)
50 ml witte wijn
1 theelepel gedroogde salie
1 klein sjalotje
100 gram champignons
Peper en zout, naar smaak
Ragoutbakjes (voor kerst heeft Albert Heijn deze leuke sterretjes, zie foto)
Bereiding:
Maak de bouillon, ik gebruikte een bouillonblokje maar je kunt natuurlijk ook zelf groentebouillon trekken. Laat 50 gram boter smelten in een pan met dikke bodem. Voeg in 1 x de bloem toe. Roer heel goed door om klontjes te vermijden en laat even bakken terwijl je blijft roeren. Na een paar minuten voeg beetje bij beetje de bouillon toe. Zorg er telkens voor de de bouillon volledig wordt opgenomen voor je het volgende scheutje toevoegt. Ga door tot de ragout de dikte heeft die je wilt. (het kan dus zijn dat je bouillon overhoudt). Voeg de witte wijn toe en roer goed door. Snij het sjalotje fijn en voeg toe. Voeg de kipstukjes toe. Snij de champignons in stukjes en voeg toe en breng op smaak met de salie en peper & zout.
Verwarm de bakjes in de oven en serveer eventueel met nog een takje kruiden!
En de rest van de ragout kun je invriezen en is bijvoorbeeld ook heerlijk over rijst.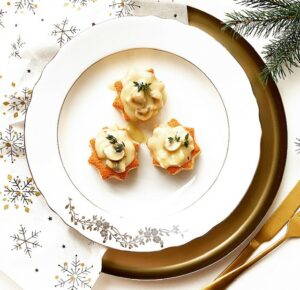 English version:
Ingredients for a full pan:
50 gram butter
50 gram flour
1 liter (vegetable) broth
100 gram "chicken" pieces (vega from for example AH own brand)
50 ml white wine
1 teaspoon dried sage
1 small shallot
100 gram mushrooms
Salt and pepper, to taste
Puff pastry cups (for Christmas Albert Heijn has these cute star ones, see photo)
Directions:
Make the broth, i used a dried broth and let it boil, but you can also make veggie broth from scratch. Let 50 gram butter melt in a pan with a thick bottom. Add the flour in one go. Stir well to avoid clumbs and let it bake while stirring. After a few minutes add the broth bit by bit. Make sure that the broth is completely dissolved before adding more. Continue untill the ragout has the thickness you prefer. (which means you might have a little broth leftover). Add the white wine and give it a good stir. Cut the shallot in small pieces and add. Add the "chicken". Cut the mushrooms and add. Add some more flavour by adding the sage and salt and pepper (to taste).
Heat the puff pastry cups in the oven and serve with a little spring of herbs!
And the rest of the ragout can be frozen and is also delicious with some rice.