Ingredienten:
1 kleine bloemkool
1 eetlepel maizena
(witte) peper en zout
Beslag:
1 ei
80 gram bloem
100 ml (plantaardige) melk
1 theelepel cajun kruiden
1 theelepel sriracha
Spicy Mango Mayonaise:
1 eetlepel mayonaise
1/4 mango
paar druppel sriracha (naar smaak)
Bereiding:
Maak het beslag door alle ingrediënten hiervoor door elkaar te mengen tot een glad geheel. Zet opzij tot gebruik. Mix met een staafmixer de mayonaise samen met de mango en sriracha glad en zet opzij. Snij de bloemkool in kleine roosjes. Blancheer (duur woord voor dompel kort onder in kokend water) de bloemkool zo'n 2 à 3 minuten. Hij moet stevig blijven. Zet ondertussen de frituurpan aan of doe zoals ik, en verwarm een laagje zonnebloemolie in de pan. Haal de bloemkoolroosjes uit het water. Laat goed uitlekken. Bestrooi met maizena en witte peper & zout. Haal de roosjes door het beslag en frituur goudgeel. Laat uitlekken op een stukje keukenpapier en dan….dippen in de spicy mango mayonaise en enjoy!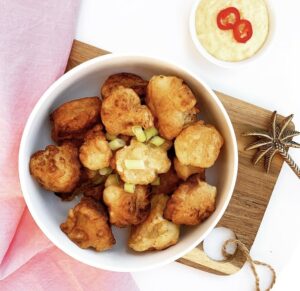 English version:
Ingredients:
1 small cauliflower
1 spoon cornstarch
(white) pepper and salt
Batter:
1 egg
80 gram flour
100 ml (plantbased) milk
1 teaspoon cajun spices
1 teaspoon sriracha
Spicy Mango Mayonnaise:
1 eetlepel mayonnaise
1/4 mango
paar druppel sriracha (naar smaak)
Direction:
Make the batter by mixing all the ingredients for it into a smooth batter. Set aside. Mix with a handheld blender the mayonnaise with the manga and sriracha untill smooth and set aside. Cut the cauliflower in small pieces. Blanche (fancy word for putting something in boiling water for a short time) the cauliflower for about 2 à 3 minutes. It must stay firm. Put the fryer on in the meanwhile, or do like i do, and heat up a little layer of sunflower oil in a pan. Take the cauliflower out of the water and let it drain. Sprinkle with the cornstarch and white pepper & salt. Dip the cauliflower in the batter and fry untill golden and crispy. Let it drip out on a piece of kitchen towel and than….dip it in the spicy mango mayonnaise and enjoy!!!