Ingredienten:
1/2 flespompoen (de andere helft kun je tegelijkertijd in de oven zetten en meeroosteren zonder kruiden, om puree van te maken, voor bijv. deze lekkere pompoenpannenkoeken)
2 theelepels Garam Masala
1 theelepel gemberpoeder
1 kipfilet, in stukjes
200 ml kokosmelk
1,5 eetlepel rode curry pasta
sap van 1 sinaasappel
80 gram rijst of naanbrood om erbij te serveren
Bereiding:
Verwarm de oven voor op 200 graden. Schil de pompoen en snij in stukjes. Leg in een ovenschaal en besprenkel met een beetje olie en de garam masala en gemberpoeder. Roer even door zodat alle stukjes bedekt zijn. Bak ongeveer 15 tot 20 minuten.
Verhit olie in een hapjespan (of wok) en voeg de kipfilet toe. Bestrooi met een beetje peper en zout. Bak de kipfilet bruin en voeg de pompoen toe. Voeg vervolgens de kokosmelk, rode curry pasta en sinaasappelsap toe.
Kook ondertussen de rijst gaar of verwarm het naanbrood. Laat de saus een beetje indikken en serveer met de rijst of het naanbrood en bestrooi eventueel nog met een beetje koriander.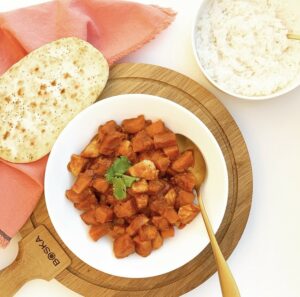 English version:
Ingredients:
1/2 butternut squash (you can put the other half in the oven at the same time to roast without spices, to make puree, for these delicious pumpkin pancakes)
2 teaspoons Garam Masala
1 teaspoon ginger spice
1 chicken breast, in pieces
200 ml coconut milk
1,5 spoon red curry paste
juice of 1 orange
80 gram rice or naanbread to serve with it
Directions:
Preheat the oven to 200 degrees celcius. Peel the pumpkin and cut in pieces. Put in an ovendish and sprinkle with a little oil, garam masala and ginger powder. Mix so that all the pieces are covered with the spices and oil. Bake for about 15 to 20 minutes.
Heat some oil in a pan (or wok) and add the chicken. Sprinkle with a little salt and pepper. Bake the chicken brown and add the pumpkin. Add the coconut milk, red curry paste and orange juice after that.
Boil the rice in the meanwhile or roast the naan bread. Let the sauce thicken a bit and serve with the rice or naan bread and sprinkle some coriander on top (optional).